The FDA has recently approved semaglutide for weight loss, which is a weekly injection for chronic weight management in adults. This is the first time since 2014 that the FDA has approved a weight loss medication, this shows great potential, especially since the history of weight loss medication has been filled with distrust and skepticism. In this blog, we will explore what semaglutide is and uncover its potential advantages, along with insights into structuring a tailored semaglutide meal plan to enhance your weight loss efforts.


What Is Semaglutide? 

Semaglutide is an  injectable class of medications  called glucagon-like- peptide-1 (GLP-1). GLP-1 is a naturally occurring hormone that the body produces in response to food intake. Once this hormone is produced, it is circulated through the body via your bloodstream and received by the pancreas, intestines, heart, and other organs that are essential in weight loss. 

Semaglutide has been used in the past to treat type 2 diabetes. It was originally approved at a lower dose under the brand name  Ozempic . After it was reported that semaglutide showed significant weight loss trends, it was sent to the FDA for clinical trials.  Today, semaglutide is an approved medication and It can be used by adults with a body mass index greater than or equal to 30mg/kg² or 27 mg/kg² if they have at least one weight-related condition such as high blood pressure or high cholesterol. 
How Does Semaglutide Help with Weight loss? GLP-1 is an  incretin hormone  that is sent out by the body after eating, this hormone helps lower blood sugar levels by triggering insulin release and preventing sugar production.  This hormone also gives you a feeling of fullness, which helps decrease your appetite and food cravings, this is done because Semaglutide slows down how quickly food leaves the stomach called gastric emptying.
Even though semaglutide helps with weight loss, taking semaglutide should also involve regular exercise and a healthy diet. Your diet should consist of fruits, vegetable and proteins including lean meats like chicken, turkey and fish. At Waters Edge Medical Clinic, we can help you start a proper Semaglutide Weight Loss Program where our team will help guide you to achieve optimal results.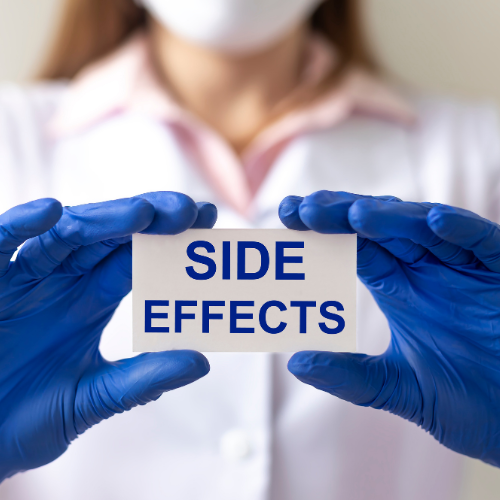 Possible Side Effects from Semaglutide

The most common side effects of taking semaglutide include nausea, diarrhea, or vomiting. Additional side effects people experience are: Headaches, stomach aches, Constipation, bloating and belching, indigestion, dizziness and fatigue.
Less common side effects that are important warnings to be aware of is that this medication has a potential risk for thyroid C-cell tumors. This has been seen in animal studies only, currently it has not been confirmed in humans. However, if your family has a history of certain thyroid disorders, it is best to avoid semaglutide. 
How is Semaglutide Injected at Waters Edge Medical Clinic and Spa.

At Waters Edge Medical Clinic and Spa, we get our products from a professional compounding pharmacy. We mix our Semaglutide with MIC (methionine, Inositol, choline) which are three amino acids that help detoxify the liver, increase metabolism and turn fat into muscle, and Vitamin B12 which helps increase energy. This combination helps prove the success of Semaglutide, and also decrease side effects that a person can get from taking Semaglutide alone.
We will usually start patients for the first month at .25mg of Semaglutide and .25mg of MIC and .25mg of B12.
We start patients at a more conservative lower dose to help deter any side effects.
During this time we also work with the patient on maintaining a healthy Semaglutide weight loss diet.
The second month we raise our Semaglutide to .5mg and we maintain our MIC and B12 at .25mg each.
The third month we raise our Semaglutide to 1.0mg and we continue to maintain the MIC and B12 at .25mg.
We will continue this dose up to 4 months or until desired weight loss goals are achieved. Dosing can vary depending on how well the patient is doing on their weight loss journey.
If they are having consistent wins and losing weight each week, we will maintain dosage levels.
If they are having difficulty or hitting a plateau we will alter dosing until we get desired results.

We have also learned over time that if a person is on a higher level of Semaglutide, MIC and B12 and stops immediately that hunger and cravings return. Thus we recommend a lower dose the following month, so for example if a patient was taking 1.0mg of Semaglutide to then lower the dose the next month to .5mg and the month after that to lower back down to .25mg, followed by one or two months of only doing MIC and B12.
This helps keep the cravings and appetite down, and also helps reduce the possibility of weight gain after the treatments. The main goal we strive for patients is to make sure that once they hit their goal weight that they keep that goal weight for the next 6 weeks. This 6 week period allows the body to reset the metabolism and lock or set the new weight at the correct weight.

What Happens If I Miss A Dose

Get the medicine as soon as you can and then go back to your regular schedule. If you are more than 5 days late for the injection, skip the missed dose and return to your regular schedule.


What other drugs will affect semaglutide?

It is important to tell your doctor about all medications that you are taking, including prescription, over the counter medicines, vitamins and herbs. This is vital to prevent side effects or contraindications. Also, Semaglutide can slow your digestion, and it may take longer for your body to absorb any medicines you take by mouth.


Safe and Effective Treatments With Waters Edge Medical Clinic


At Waters Edge Medical Clinic and Spa, we have extensive experience with natural health care. Our office is a natural pain and regenerative medicine clinic and spa, we have a strong focus on over all health including helping our patients achieve their weight loss goals. Thus, no matter what your health goals are, our team can derive a plan suited for your personal well- being. We don't just offer treatment options, we educate you and enable you to take control of your life.
For more information on our Semaglutide Weight Loss Program, please  contact us  to set up an appointment today.